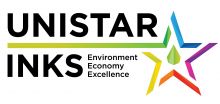 Unistarinks
As the world of print and electronics comes together, we have used our extensive experience in the print and packaging industry to develop a range of conductive inks.
UNISTAR INKS has been in South Africa for well over 15 years, always pursuing eco – friendly alternatives to the ever popular solvent based inks in South Africa and the larger African continent.
At UNISTAR INKS we are committed to providing superior quality, cost-effective products, adding value to our customers. We promote customer retention and long term supplier relationships and as a collaborative team strive to provide competent, first class technical service to the industry segment. We strive to continuously develop eco-friendly products on behalf of our valued customers.
We recognise the importance of the world-wide drive to reduce the carbon footprint on our planet and have established strategic associations in various countries, including Europe and Canada, to continuously explore opportunities to develop technologically advanced, environmentally friendly, ink technology systems that provide competitive advantage to our esteemed customers.
Back to list
Visit website