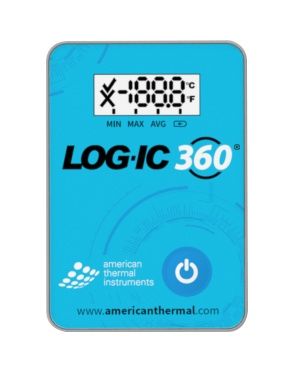 NEWS: Bluetooth electronic data logger for Cold Chain System
24-09-2018
Tracking temperatures of sensitive products enroute to its destination is now more accurate, easy and reliable with the introduction of LOG-IC® 360 Bluetooth Data Logger, says American Thermal Instruments, who developed the device. The addition of Bluetooth technology provides multiple advantages for the cold chain system worldwide, it claims.
During transport, products such as food and beverages, medical devices and pharmaceuticals no longer need to be opened. The new data logger is less than 5cm x 7.5 cm wide and can read individual temperatures up to 90m from the unopened product.
The lithium coin cell battery has a minimum one-year capacity, a temperature range of -20°C to 70°C. and relays the critical data to Android, iOS or any other Bluetooth-enabled device. Temperature accuracy is ± 0.25°C. In addition it tracks a humidity range of 0-80% RH with communication certifications which include FCC, CE and NIST platforms.
"We plan to advance the technology as fixed asset monitoring with our added app technology," says Rob Snyder, technology director of ATI. The LOG-IC 360 BT features an easy-to-read LCD screen, is programmable for up to four distinct alarms and is scalable for temperature/humidity readings.
Data can be viewed using ATI's DataNow™ Cloud service and mobile applications, which make the readings available to any interested party. Any excursions (thermal alarms) will display when, and for how long, the product was not in range of acceptable temperature and humidity levels.
"Since the FDA and the Food Safety Modernization Act (FSMA) can audit temperature records at any time, the customer today looks for an automated record and distribution system," according to Randall Lane, chief strategy officer for ATI. "Shipments are tracked direct to store and through various distribution channels. Bluetooth technology streamlines this process for our customers."
The LOG-IC 360 BT logger was designed to help verify compliance throughout the entire distribution channel, and the critical temperature and humidity data can be shared with key decision-makers.
More about this at AIPIA World Congress REGISTER!
News overview