Blockchain protects Sicilian blood oranges
| 07-01-2020 |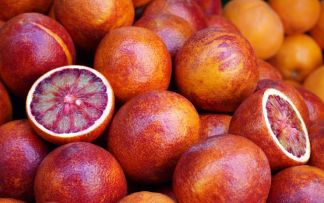 Blockchain is being used to ensure the authenticity of Sicilian blood oranges as part of the fight against counterfeit citrus fruits. The ROUGE (Red Orange Upgrading Green Economy) project has been initiated by the Blood Oranges of Sicily IGP Protection Consortium and technology company Almaviva.
An NFC (near field communication) sticker is connected to a Blockchain system which is then attached to crates of Sicilian blood oranges. Product information including the origin, date of harvest and storage methods can then be accessed by users via an app. Almaviva previously trialled the technology to trace products along the wine production chain. It will be applied to the 2019/20 blood orange crop.
Fulvio Conti, head of agriculture and environment practice at Almaviva, said, "With a sticker fixed to the fruit crates and sophisticated sensors checking transport conditions such as humidity and temperature, the app allows the user to monitor the field of production via the geolocation system of publicly available maps, the date of harvest and the storage and distribution methods used."
Italy produces 1.62m tonnes of blood oranges annually, but the fruit is also subject to counterfeiting which causes losses for Sicilian producers. In a recent seizure of counterfeit agricultural products, it was found blood oranges from South Africa were being passed off as Sicilian blood oranges.
Giovanni Selvaggi, president of the Blood Oranges of Sicily IGP Protection Consortium, commented, "These oranges are a jewel in the crown of Made in Italy produce. Over 50 percent of the total national output comes from Sicily. In 2018, the figure amounted to roughly 1m tonnes."
The consortium has more than 600 members, both producers and packagers, using more than 6500 hectares of certified cultivation. Three varieties of blood orange are covered by the protected status: Moro, Tarocco and Sanguinello. As well as being eaten fresh they are increasingly processed into juices, jams, sweets, bitters, etc. The consortium says more and more food companies are requesting to use the IGP denomination, making it a highly valued classification.
"Counterfeiting and fraud are damaging to the consumer and cause losses for producers. The platform was created to protect Blood Oranges of Sicily IGP and the global exportation of this unique product, which this year also reached the Chinese market," added Selvaggi. During 2019 the first shipment of 46 tonnes of Sicilian blood oranges were shipped to China.
« News feed