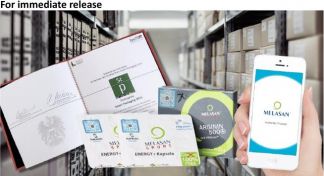 NEWS: Award for Smart Authentication Pharma Pack
21-12-2016
Melasan, a food supplement provider and AIPIA Member Authentic Vision, a provider of mobile authentication and engagement solutions, recently received an award for an innovative anti-counterfeiting smart-packaging solution for the pharma industry from the Federal Ministry for Economic Affairs in Austria. The solution, they claim, enables any consumer to simply and securely authenticate the package with a smartphone and it works not only on the outer box, but also authenticates individual blister packs because it is integrated in the blister foil.
The company believes this solution offers secure and simple authentication of the product using a free to download mobile app with scalable copy-proof tagging of the package. Authenticity is assured by the combination of a unique ID number with a randomized holographic element - a combination which is checked by the app during the authentication process.
With the establishment of a secure communication channel to the final consumer they, and also the producer, can be sure about genuineness of the other party, so can provide relevant and valuable information.
Additionally extensive market intelligence is available through an online platform. Producers can not only access the traceability information but also manage the smart-functions – content and interaction process with the consumers...
News overview