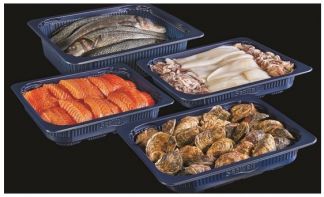 NEWS: Active Tray Solution Keeps Seafood Fresher, Longer
14-02-2018
Maxwell Chase, a CSP Technologies company, that specializes in packaging which extends freshness and enhances food safety, will debut SeaWell™ Trays, a first-of-its-kind active solution that significantly extends the shelf life of seafood, at Seafood Expo North America in Boston, next month.
The patent-pending trays feature integrated absorbent technology which turns into a gel. It is incorporated into wells at the bottom of the trays, to absorb excess fluids. It can reduce exposure to these fluids and lessen potential damage to seafood products. In addition the packaging system increases freshness and visual appeal, absorbs odours, and enhances safety, it claims.
Available in a signature blue colour and a variety of sizes for various capacities, SeaWell™ trays significantly extend shelf life for fresh seafood, in many cases by up to 50% or greater, according to Maxwell Chase. They can be used for retail, foodservice and logistics.
The shelf life of frozen seafood can also be extended. Products can be packed frozen and then thawed in the same package maintaining product integrity, with resulting fluids absorbed in the tray's wells – invisible to consumers, who enjoy a pristine product. Whether fresh or frozen, a key benefit is that geographic markets for seafood processors can be expanded, it says.
Automation-friendly for high-speed production environments, the trays offer clear visibility of the packed product and representing a 'case-to-cook' solution for easy execution in industrial kitchens.
"These new seafood trays have the potential to revolutionize the seafood industry," said Neal Watson, general manager for Maxwell Chase. "They represent a game-changing technological breakthrough, offering superior product protection for customers' high-value seafood products. The result is extended market reach, enhanced brand recognition and improved consumer experiences."
News overview