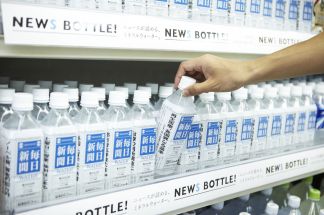 NEWS: AR and Digital Printing Combine to Create News Bottle
02-05-2017
A case study which appeared in a book entitled Digital Print - A Bigger Spectrum (2016), according to PKN in Australia, illustrates the power of customized digitally printed packaging combined with Augmented Reality (AR) to create a very special water bottle for the Japanese market. The Mainichi water brand created a News Bottle targeting young people who have stopped engaging with printed news media.
The brand's agency, Dentsu, knowing that this demographic typically buys two bottles of water per day, saw the opportunity to turn water into content in a campaign that was launched a few years ago but has relevance to this theme. Thirty one 'newspaper editions' were run in just a month, printed by Seikou on the bottle's shrink sleeve, using HP WS4500 digital press.
The packaging was supported by AR technology on the bottle that linked the design to live news updates. Sadly no details of the AR supplier were forthcoming.
Author and brand design guru Silas Amos commented, "It's hard to think of a more 'real time' use of packaging than this, but consider applying the same approach to topical branding, seasonal editions or tactical creativity..."
"Packaging that delivers content with this level of engagement, talks to millennials in language they understand, gives them a sense of control over how they are connecting with the information. It serves to inspire, challenge and empower," he believes.
News overview