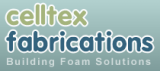 GMA Systems Ltd
CELLTEX was formed in 1991, initially to supply flexible PE foam joint fillers to the building and civil engineering industries, as well as insulation and protection materials.
Originally CELLTEX operated from premises in Hartlebury, a very picturesque village in Worcestershire.
The first 5 years saw excellent growth, and the company moved to much larger premises on the outskirts of Birmingham in 1996.
Subsequent diversification into fire protection, moveable joint fillers, foam protection profiles, joint sealing products, bridge bearings and insulation products has seen sustained growth to a turnover approaching £2million per annum.
We also supply packaging for electrical and domestic consumer products and preformed edge protection available through our sister company - GMA Systems Ltd
All products are "GREEN" and supplied to full British Standard Specification.
Back to list
Visit website