YES YOU CAN! With a Cantroller!
| 09-07-2019 |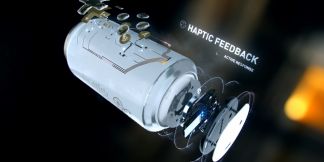 The perennial problem: How do you play your favourite computer game (which needs both hands) AND drink a cool beer at the same time, has just been solved by the nice people at Miller Lite. Last month saw the launch of a (very) limited release Cantroller, a video game controller that also holds 12 ounces of Miller Lite. The brand partnered with technology company Unit 9 to develop the controllers, which are designed using flexible circuit board technology, equipped with USB charging, bluetooth, haptic feedback and, of course, beer. The can itself can be refrigerated.
It was created as a special promotion to coincide with the massive gaming expo E3, in Los Angeles, USA. Sadly only 200 Cantrollers were up for grabs at the event (which took place in mid June). All players had to do was beat US celebrity Eric Andre at the fighting game Street Fighter V during the event. The Brand says it plans to make several hundred more.
The Cantroller looks like a standard Miller Lite can on one side. On the other are the game controls, all arranged with flat membrane buttons that don't affect the profile of the can itself. The simple layout is just a direction pad and four face buttons in a Nintendo A/B/X/Y configuration, with Start and Select buttons. The rechargeable battery pack can hold a 3 hour charge. The Bluetooth transmitter is mounted on the bottom of the can, with a small ribbon cable running to the membrane panel with the controls.
One experienced gamer confirmed he played Sonic the Hedgehog with a beer can! While it wasn't comfortable, because membrane controls are second only to touch-screen controls in terms of bad platforming inputs, it did function properly. It even showed up in the Windows Bluetooth menu as "Miller Lite Can," he said, 'which is hilarious'. (Ref: pcmag.com)
"With some 40% of gamers already drinking beer while they play, we're taking it to the next level by offering them a fun way to enjoy Miller Lite while they play their favorite games," says Justine Stauffer, a senior manager at Miller Lite. "Miller Lite is a fan of gaming of all kinds, and the launch of the Cantroller is another way we're connecting with the gaming community."
« News feed