Staying ahead of the COVID-19 counterfeiters
| 30-06-2020 |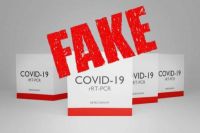 Many legitimate personal protection equipment(PPE) products do not have an effective anti-counterfeit protection solution. In the fight to protect both products and consumers, Systech has offered PPE manufacturers an anti-counterfeiting software solution, the Systech Brand Protection Suite™, that is deployable within weeks and includes special terms and pricing.
The company sees criminals are moving quickly to exploit the pandemic and introduce fake equipment into the supply chain. Product counterfeiting and diversion are at an all-time high and climbing. Unprecedented demand combined with extraordinary demands on legitimate suppliers has put pressure on these manufacturers and distributors – creating a perfect storm for counterfeiting.
"We believe providing relief to suppliers of critical equipment is essential to our mission of ensuring fail proof, distributed supply chain security is in place to protect the value of brands and safety of consumers and healthcare workers," says Joe Belenardo, VP of sales and marketing at Systech.
But the company is already looking beyond PPE and even the proliferation of fake COVID-19 test kits, which are also subject to major fraud. It is now talking to those pharmaceutical companies who will eventually produce vaccines to halt the virus and which will be produced in billions of doses later this year or early next. For test kits the company advocates that a digital authentication solution is made available for every test, so individuals can verify it is legitimate before performing it
According to Steve Tallant, senior director of market development at Systech, writing in World Pharma Today recently, the legitimate pharmaceutical supply chain is quite safe, whether serialized or not. But serialized barcodes are easily copied. There is comprehensive data contained in serialized 2D barcodes, unfortunately counterfeited products with a replicated barcode read the same and provide the same information as the legitimate item.
With billions of Covid-19 vaccines likely to be on the market soon, 'there will be an onslaught of entities looking to illicitly profit from the pandemic', particularly through online e-pharmacies and in the gray market, where the internet makes a 'perfect distribution channel'. So Tallant explains how adding a digital authentication layer, through e-Fingerprinting and smartphones, is a cost-effective and practical protection safeguard, given the certainty of counterfeit products.
"We need to connect these medicines digitally, and create trusted on-site authenticity capabilities to shut out the counterfeits," says Tallant.
Systech provides connected packaging technology that allows anyone to use a smartphone to authenticate a product. The Systech Brand Protection Suite provides serialization, traceability and digital product security by leveraging an existing package's QR or barcode.
« News feed