RFID roll out gathering pace
| 24-01-2020 |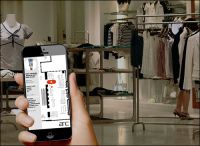 Several retailers are reporting increased use of RFID technology to improve the shopper, staff and security experience both in store and at check-out. Here are just a few examples, reported in RFID Journal and Electronics World:
Six retailers worldwide will begin piloting a new feature from Sensormatic Solutions (a Johnson Controls company) early this year, using passive UHF RFID for shrink (theft) management. The solution is part of the company's platform designed to bring intelligence to electronic article surveillance (EAS). RFID for Loss Prevention is an expanded line of RFID-based these solutions using the company's TrueVUE software-as-a-service (SaaS) retail analytics solution, with Google Cloud Platform (GCP). Companies can pay a subscription price for multiple solutions, ranging from RFID as EAS through to inventory management and smart fitting rooms using RFID or other Internet of Things (IoT) technologies.
A New York department store is testing a StealthMatrix solution that uses gaming-style artificial intelligence and RFID to help sales associates locate a specific product in-store by viewing it on a 3D map and following arrows leading them to it. In the future this feature could be made available to shoppers as well, depending on a retailer's infrastructure.
Retail's Big Show, held recently in New York, provided visitors with the first opportunity to handle samples of Smartrac's recently announced inlays and tags. These RFID product innovations include the new MINIWEB inlays and tags based on Impinj M730 and M750 integrated circuits (ICs). These are designed especially for retail and supply-chain applications. With its small form factor, the Impinj M700-powered MINIWEB delivers small, universal RAIN RFID inlays and tags that can be attached to, or embedded in, nearly any retail item in any operating frequency worldwide, says the company.
The Japanese government ministry METI and several leading Japanese retailers have announced they are planning to tag 100 billion retail items in Japan by 2025. Already several retailers are trialing automated checkouts in stores in Japan and China using RFID tagged products. Others achieve the same with sensor fusion, combining RF location technologies with machine vision.
The growth in the market for smart packaging containing technologies such as smart tags, RFID, NFC and sensors is such that IDTechEx Research predicts electronic smart packaging will be valued at $1.8bn in 2029.
« News feed