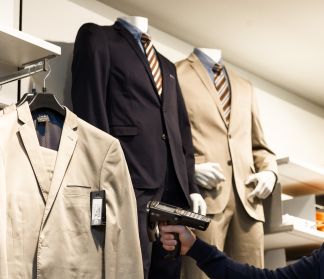 NEWS: RFID in Fashion at Top UK Retailer
20-06-2017
One of the UK's leading department store retailers, John Lewis, has deployed ultrahigh-frequency (UHF) EPC RFID technology at 34 of its 46 stores to improve inventory management of key fashion products. The rollout took place in only three months at the end of 2016, with 25,000 stock-keeping units (SKUs) including lingerie, sleepwear, swimwear and men's formal wear now being tracked.
The company decided to deploy RFID tagging for entire product SKUs to make the deployment simpler to manage, according to Rob Mitchell, John Lewis's manager of selling support. "This volume will increase through 2017 as we roll out to more assortments," he said. By early 2018, the retailer expects all apparel to be tagged, in three additional stages.
Checkpoint Systems, an AIPIA member, provided the solution, which offers software and integration services, with tags from Avery Dennison and handheld RFID readers provided by Zebra Technologies, both also members of AIPIA. The handheld readers are deployed at all of the 34 branches, and the Checkpoint software to manage the collected read data is installed on the retailer's centralized server. This software provides reporting for central and branch operations.
Since the system was taken live late last year, Mitchell reports, the increase in on-shelf availability provided by the system has boosted sales. An additional benefit is a reduction in stock levels, he says, since the company no longer needs to stock contingency items at branches to avoid shortages. "We can better direct our replenishment effort," Mitchell claims, "and stock levels have been reduced as we have been better able to trust the figures."
John Lewis embarked on an RFID pilot in 2014 and 2015 at three branches across a few select fashion items. Based on that pilot's success, the store decided to roll out the system on a universal level. Approximately 80 percent of all these products are being tagged at the point of manufacture, while the remaining 20 percent are being tagged by a third party.
News overview