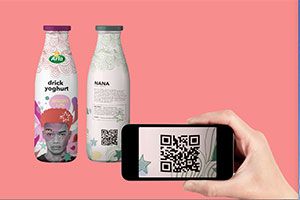 NEWS: QR Concept Can Lead to Better Eating Habits
29-11-2017
A digital platform aimed to inspire healthy breakfast habits became a winning concept when the students at Bergh's School of Communication competed to come up with a way Arla Foods could reach out and engage young consumers. This was achieved through digital interactivity based on packaging as a platform. Breakfast Stories stood out as an idea and design with potential to bring about true behavioral change.
The PackChallenge is arranged annually by Billerud Korsnäs and Bergh's in Stockholm, Sweden. Through September and October, the students competed on a given topic. A total of ten groups presented their solutions and concepts which considered the problem that 20-30% of teenager's skip breakfast almost every day.
The idea is to use Arlas's different product packages and through a QR code give teens and parents access to a digital platform where they can share stories and facts about healthy breakfast habits.
The jury, consisted of, among others, Jon Haag Director Consumer Insights at BillerudKorsnäs and Maria Tornell Director Innovation at Arla Foods who assessed the contributions taking into account originality, relevance, feasibility and finish.
It is useful for many product groups within Arla, as it is based on a community that is truly digital and it connects to packaging and the situation. It can be the beginning of a long-term work where community problems can be solved with product, packaging and brand.
"Packaging can contribute so much more to a sustainable development than just being made of a more or less sustainable material. Packaging could interact with consumers and have a more direct impact on consumer behaviour," commented Jon Haag.
News overview