New RFID sensor integrates Track & Trace into automated machines
| 22-08-2019 |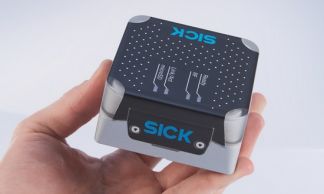 It is not often we report on an actual piece of 'kit' which takes active & intelligent packaging further, but this new development from SICK is intended to integrate RFID track and trace capability in automated machines and mobile vehicles for product handling and logistics in packaging operations.
SICK's RFU610 is designed for short-range auto-ident applications such as tracking of smaller products and packages, materials handling in e-Kanban processes, identification of pallets on roller conveyors, as well as monitoring consignment transfers onto smaller Automated Guided Vehicles and Carts. Almost half the size of SICK's next-level, mid-range RFU620 reader, the RFU610 needs an installation space of just 80x92x38mm.
The RFU610 combines antenna, intelligent control and connectivity into a single IP67 aluminium housing. According to SICK, the RFU610's in-built circular antenna, monitors a focused reading zone that avoids misreading of unwanted tags in the vicinity, while still reliably mastering bulk tag identification, a significant advantage when handling small components at short ranges.
John Charlesworth, SICK UK auto-ident product specialist said: "The current global trend towards using UHF is set to ensure the scalability of RFID equipment across supply chains in future. The SICK RFU610 offers a much-needed solution to upgrade older RFID technologies, such as LF and HF which have typically been deployed at shorter ranges.The ultra-compact SICK RFU 610 adds to SICK's family of UHF read/write devices and completes a fully-scalable SICK UHF scanning capability right up to 10 metres. It therefore lays the foundations for seamless track and trace transparency across entire production and logistics workflows as part of Industry 4.0," he added.
SEE AT AIPIA WORLD CONGRESS AMSTERDAM NOV 18-19
« News feed