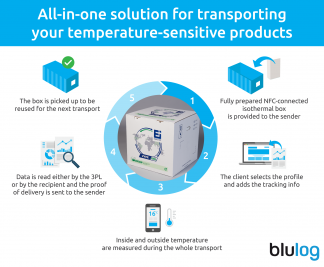 NEWS: New NFC Connected Box for Cold Chain Meds
08-03-2017
Blulog which specialises in securing the cold chain with temperature indicators, has announced the launch of its NFC-connected boxes – in partnership with Emballi'so, a French partner which designs, manufactures, tests and qualifies temperature controlled packaging for the protection of the thermo sensitive products in transit.
The sender receives a fully prepared NFC-connected isothermal box ready-to-use. The NFC logger is directly integrated in the boxes which enables great simplification of the whole logistics process, say the companies. The sender just needs to select the profile and the tracking and then to add the products to send. The inside and outside temperature are measured during the whole transportation.
"Our solution is particularly well suited to the transport of vaccines, biotechnology or clincial trial products," explains Jeremy Laurens, director France and Europe Blulog.
To be as transparent and safe as possible, the Third Party Locistics (3PL) company is also enabled to scan the temperature and upload the data to the cloud, without opening the box, to ensure the proper drug temperature maintenance is achieved during transport.
During the delivery, the transporter scans directly and uploads the data to the cloud. In this way, the recipient doesn't need to remove the dataloggers from the box, which reduces the risk of loss or damage to the logger. Once the products have been delivered, the box can be picked up to be used again for the next transport.
Credit-card sized, autonomous and inexpensive, these NFC temperature data loggers offer a +/- 0.2°C precision between 0 and 30°C and +/- 0.4°C on the rest of the range -40 to +60°C, with calibration certificate provided, claims Blulog.
News overview