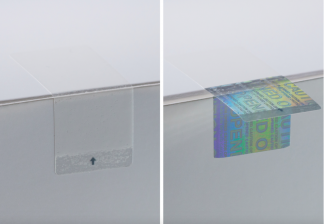 NEWS: New Holographic Seal Complies with FMD
10-08-2018
As the Europe-wide Falsified Medicines Directive (FMD) comes into force in February 2019 it requires all pharmaceutical manufacturers to mark their prescription medicine packaging with a serial number and an additional tamper protection device.
Schreiner MediPharm's multifunctional Covert-Hologram Seal with an irreversible holographic effect offers reliable first-opening indication and tamper evidence, plus counterfeiting protection, and complies with the requirements of the EU Directive, it says.
The innovative Covert-Hologram Seal is transparent, inconspicuous and thus appears like a simple packaging seal. However, the first time the seal is opened, an invisible effect becomes visible. A hologram emerges that shows various inscriptions and design elements in different colours, depending on the viewing angle.
This holographic effect is irreversible, claims the company, and the seal's fully transparent original condition cannot be restored. Thus, manufacturers, suppliers, and patients can tell at first glance if the packaging has been previously opened or if the medicine is anoriginally packaged product.
Covert anti-counterfeiting features embedded in the specialty closure seal add extra security, effectively combining the reliable first-opening indication required by the EU Directive with additional counterfeiting protection in a single seal, enhancing security throughout the entire supply chain, according to Schreiner.
REGISTER FOR WORLD CONGRESS NOVEMBER 19-20, AMSTERDAM
News overview