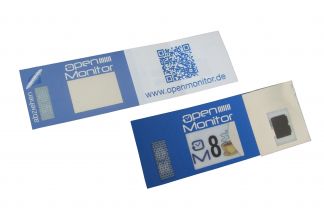 NEWS: High-tech Nano Sticker can Offer Magical Possibilities
29-05-2017
Open Monitor is a high-tech sticker, already being used in the lottery sector, which extends the advertising effectiveness of promotion campaigns through a time delayed release of information (e.g. win-codes, advertising messages etc), say the developers.
Customers can activate the product themselves by tearing off or folding over a flap which starts lateral self-oxidation that opens the aluminum window which is the top layer of the Open Monitor. It is tamper-proof and can be fixed on print media like flyers and catalogues, or can directly be integrated in a packaging of a product. This leads to a customer loyalty and awareness of the advertised brand or product, it is claimed.
"Made in Germany by a research & development team at the University in Münster, a print and production team in Speicher and a marketing & sales team in Longuich, we guarantee a product that leads to high marketing and quality standards through this new nanotechnology label that is patented in all worldwide key-markets" said Mr. Torsten Münich, managing director of PolyTaksys GmbH, which makes the sticker.
Currently the print & production team can manufacture print runs up to 100.000 in a short period of time. Through improvements in machinery the print volume will increase up to 1 million Monitors on a monthly basis by September 2017.
News overview