Final tests for watermarking plastic bottles in 2019
| 17-01-2019 |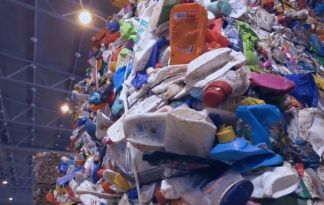 Speaking at the recent AIPIA Congress in Amsterdam Filigrade's CEO Johan Kerver confirmed that final tests on watermarking of plastic bottles to aid recycling will be carried out in the first quarter of 2019 and they are partnering with a French company, as yet unnamed, to build the first processing plant.
"We all need plastics for a lot of reasons," he said during his presentation, "the problem is how we discard them." His company has developed a watermarking process which identifies plastics for sorting. "Unsorted plastics have no value which can lead to a poisoned environment," he explained.
Petcore Europe, PET Recycling Europe – a Brussels-based non-profit trade body, is suggesting two options to recommend to industry, according to Kerver. One is a watermark and the other chemical tracers. The advantage of tracers is that they can be sprayed on the bottle easily, are invisible and ready to market. The downside is that they leave chemical residues and there are a limited number of unique tracers, plus the cost is not optimal.
A watermark is a 'one off' cost as it can be incorporated in the mould and has the distinct advantages of being readable in normal light. Also there are billions of potential watermark designs available to make them unique and highly traceable. They are cheap to produce, leave no residues, as there are no chemicals and no electronics involved, and can be used on labels.
These marks can be used on a variety of plastics packs, including bottles, but also shrink sleeves, trays, IML containers, crates and bigger liquid containers. The watermark can also include additional information such as product identification. Black, opaque and coloured plastics can be identified in this way, not only transparent material.
"As recycling with watermarks is a very attractive option to manufacturers we are pleased to be at the final testing stage. This should be finished by the middle of this year and then we can go into production. Companies already on board include Nouryon, Schoeller Allibert and Dutch Awareness," he claims.
« News feed