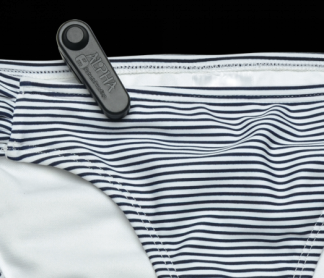 NEWS: EAS Tagging goes Mini to Protect Fine Garments
18-04-2018
Checkpoint Systems, a leading supplier of Electronic Article Surveillance (EAS), RFID solutions and Alpha High-Theft Solutions for the retail industry, has announced a new solution that protects fine garments without leaving a pin hole, the Needlelok™, earlier this year. Now, as forecast, the companies have introduced the Needlelok Mini.
NeedleLok protects delicate fabric clothing, such as intimates as well as light and thin fabric garments, where a normal hard-tag and pin would leave a damaging hole in the merchandise after removal. As a single-piece solution, the NeedleLok enhances the ease of application and removal as well as the overall safety by covering the needle when not in use, say the companies.
The NeedleLok includes an AM or RF ferrite to trigger an EAS system and provides benefit denial through the highly visible red ink vials. The tag is available in three locking strengths (S3, Standard Lock or Super Lock).
"Unlike other retail anti-theft solutions that simply aren't appropriate for fine garments, NeedleLok will gently spread fabric threads instead of piercing them, therefore avoiding leaving a visible hole after removal," said Stuart Rosenthal , VP of sales and marketing for Checkpoint's Alpha High-Theft Solutions. "This, combined with powerful anti-theft features, make it the perfect solution for protecting intimates and other thin/fine fabric garments."
"The Mini NeedleLok widens the range of applications to also include protection for merchandise with straps, such as dresses, bathing suits, lingerie, handbags and backpacks, which were previously difficult to tag without damaging," he added.
The key features of Needlelok are: single-piece tag with integrated needle, easier to manage; freedom of placement on the garment; protected needle to prevent wear and injuries; automatic spring loaded opening; Ink vial provides a strong visual deterrence.
Checkpoint is a division of CCL Industries.
All about A&IP Summit
June4-5, Jersey City
News overview