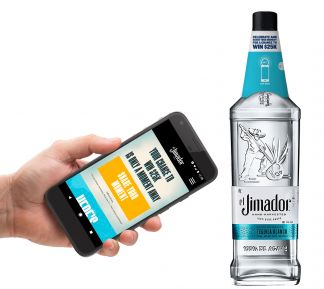 NEWS: Connected Bottles for a Soccer Crazy World
06-07-2018
Thin Film Electronics a leader in NFC mobile marketing solutions, has announced el Jimador tequila as a new customer - a leading brand of Brown-Forman, one of the largest American-owned companies in the wine and spirits industry. It will use Thinfilm's complete NFC mobile marketing solution to enhance marketing efforts for its summer soccer campaign. El Jimador sponsored the Mexican National Soccer team's 2018 US tour prior to arriving at the FIFA World Cup.
The six-figure unit, in-market deployment – consisting of a combination of "smart" bottles and "connected" coasters – is a key component of el Jimador's omni-channel "Soccer Moments" campaign. It is believed to be the industry's largest NFC-related activation ever for a tequila brand.
El Jimador incorporated NFC tags in custom bottle-neckers and branded coasters. When tapped with a smartphone customers can instantly submit their favorite soccer story for a chance to win $25,000, custom jerseys, and other prizes. The NFC tags fully integrate with Thinfilm's CNECT™ Cloud Platform and enable el Jimador marketers to view real-time tapping activity, analyze campaign performance, and uncover actionable insights.
"It has become increasingly common for leading brands like el Jimador to position NFC as a key enabler within major omnichannel marketing initiatives," said Davor Sutija, CEO of Thinfilm. "The Soccer Moments campaign is a perfect example."
Elsewhere Brazilian spirit brand Catuaba Selvagem has introduced special bottles for the FIFA World Cup. In a move that is a nod to a musical instrument synonymous with the World Cup in South Africa in 2010, the bottles turn into vuvuzelas. When the contents have been drunk, they simply fit a doser, unscrew the bottom and use to make as much noise as they can.
The 200,000 limited edition is being distributed in 105 different points of sale across Brazil. The brand also made changes to its traditional label by adding cheerleaders and a football. It was created by Belo Horizonte based Pro Brasil creative agency.
News overview