Cisco adopts RFID management at its merchandise stores
| 20-06-2021 |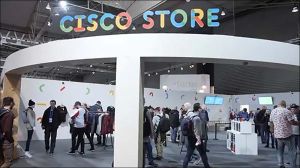 Global hardware and software company Cisco has deployed an RFID solution at the Cisco Store based at its corporate headquarters, as well as in a traveling store that pops up wherever Cisco conferences take place. The company sells its own branded merchandise and apparel and claims its retail model is unique, in that it comes in these two distinct formats: the traveling stores and the permanent HQ location in San Jose, California. The solution, provided by RFID company Keonn, is now live at both formats, says the report in RFID Journal.
The system, consisting of an RFID-enabled robot and fixed RFID readers, is designed to collect accurate inventory data, detect when products leave the store and provide fitting rooms with intelligence to help customers access content regarding the products they try on. It enables automated inventory data capture in real time, to ensure that products are available for shoppers whether they enter a physical store or shop online. The system is designed to enhance the customer experience, as well as using analytics about merchandise that is tried on or purchased. Thus, the company can be sure the most popular products are available for customers, it says.
At the San Jose store, all merchandise is tagged as it is received. A Keonn AdvanPrinter prints passive EPC UHF RFID tags, which can be fixed directly to an item or be attached to a hangtag. The unique ID number encoded on each tag is linked to its corresponding product's description or stock-keeping unit, and is stored in the AdvanCloud software. At the traveling stores, tags are applied to goods before they reach their temporary site. An RFID-reading AdvanMat serves as an electronic article surveillance system at the doorway for each temporary installation, which can be adjusted according to the site specifications at each location.
Cisco uses an AdvanShelf reader in the back of the San Jose store to monitor inventory in its stock room, explains Brian Domine, Cisco Store's tech expert, "So we know what is available but not out on the floor." In the store front, the company has installed an AdvanSafe overhead RFID reader, which captures tag IDs in real-time near the store's entrance to prevent theft.
The company also employs Keonn's RFID reading Robot, known as Robin, which can move around the store, or in a low-ceiling warehouse, to read the tags attached to all items, capturing a full inventory count without requiring staff members to walk through carrying a handheld reader, according to Craig Schlecht, Keonn's VP of sales for North America. Also these counts can help employees detect misplaced items, as well as accelerate picking and return management.
The company considers its merchandise stores an opportunity to experiment with the retail environment of the future, Domine says, as it features a variety of technologies, including RFID. In future, Cisco hopes to have tags applied to merchandise by suppliers before they arrive at the store. Also both live retail sites showcases technology from Cisco and its partners, allowing customers to learn about and interact with the technology in a live environment.
« News feed