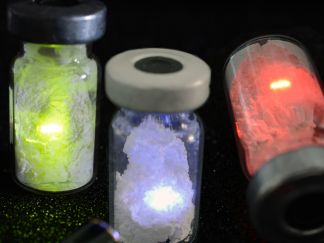 NEWS: Award Winning Marker Technology for Plastics Packaging
05-12-2017
Sustainability is an important issue, particularly for A&IP which is helping to reduce waste. Here is a smart piece of technology which helps plastics packaging be more easily reclaimed. So, while coming at the issue from a slightly different angle it is certainly worthy of a mention.
Polysecure a German based company which develops product marker and authentication solutions, has received the German StartGreen Award for its new sorting technology: Tracer Based Sorting. "This technology is a significant step towards a real circular economy, especially for plastics", said the jury in the German environmental ministry in Berlin.
The main target of this technology is to sort the plastic packaging more efficiently and to differentiate more to really fit to the needs of the recycling industry, according to managing director Jochen Moesslein. "With our technology we not only sort into the four main polymers PE, PS, PP and PET, but also into their sub groups, for example the specific PE for Coca Cola's bottle caps. In this regard our technology could be the big enabler for a circular economy for plastic packaging".
The award was granted to Polysecure for the third time in a row. The prize recognizes innovative business concepts, start-ups and young enterprises which contribute to climate protection and sustainability with their services and products. The company won in the category of young enterprises.
Dr. Bertram Dressel, managing director of TechnologieZentrum Dresden and also president of the German association for innovation, technology and start-up centres, said, "Polysecure has developed technology which enables the sorting of materials very precisely and therefore really closes the recycling loops".
According to Moesslein, more specific and pure recyclates can be offered by the recyclers and used for the production of new plastic products. Through this technology at least 25 million tons more plastic could be better recycled worldwide. In addition, it would save at least 50 million tons of CO².
News overview