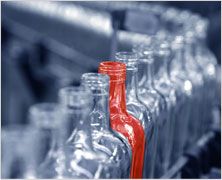 NEWS: 'All-in-One' Solution for Product Protection
29-10-2017
A newcomer to membership of AIPIA, Advanced Track & Trace has been a long-time partner of food, beverage and cosmetic brands for the protection of products. The company is exhibiting at the AIPIA Congress, presenting its all-in-one solution for product protection through packaging.
Titanium is the name of ATTs security feature, implemented directly into the packaging via digital printing. Already it is in use in the wine sector, such as all the Crus Bourgeois du Médoc Bordeaux wine bottles, Titanium combines authentication, traceability and customer information in an all-inclusive solution. It was adopted this year by SGV (General Syndicate of Champagne Winegrowers) for the Cloe smart capsule to ensure the protection of champagne bottles.
Allocated with a unique QR code and serial number, each product can be scanned with a tablet at every step of the packing line, and affiliated to its packing unit (carton and pallet), allowing for precise stock control. Products are then associated to their recipients during order preparation and can be checked for optimized recalls or parallel market detection purposes.
The main advantage of a QR-code is its wide compatibility with smartphones and general public awareness. When scanning the code, customers access their product's identity card, including name, volume, serial number, unique signature and further marketing contents, initiating a trust-based relationship with the brand.
Seal Vector is another product, which has been patented by ATT and endorsed by national Banque de France for bank note protection. It is a copy-proof mini-code enabling counterfeit detection. Printed in very-high resolution, the code deteriorates when copied and can be easily picked up by inspectors equipped with only a smartphone and adaptor lens.
News overview