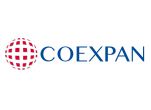 Coexpan sa
Producer of high-tech plastic sheets and trays made of polystyrene, polypropylene, PET and barrier structures mainly for food applications.
Altogether with the other divisions of Grupo Lantero (Emsur, Leca and EstellaPrint), we are able to provide our customers with a comprehensive packing and packaging solution on global basis.
Coexpan currently operates 13 production plants in Germany, France, Spain, Italy, Russia, Chile, Brazil and Mexico with more than 800 employees and distributes its products in over 50 countries, which represents a production capacity exceeding 196,000 tonnes per year.
Back to list
Visit website