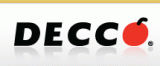 Decco
DECCO US Post-Harvest, Inc. is the postharvest Division of United Phosphorus Limited (UPL) and a specialist in the treatment of fresh fruit and vegetables. We are proud to be pioneers in technological innovations, and proud of our heritage as a global industry leader.

DECCO postharvest solutions include products for coating, cleaning, sanitization, fungicides and growth regulation.

Our products are only the beginning. Each product is backed by technical assistance with the most experience in the industry. At our research and production centers in the United States, Spain , Italy, France, Israel, India and China we constantly strive to improve our formulations, our products and our services.

The global market has never been as competitive as today. Nobody understands your challenges like we do. No one works harder to help you find the right solution. And nobody is more prepared to help you build your future. You can count on DECCO now.
Back to list
Visit website