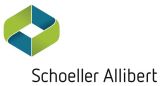 Schoeller Allibert
Schoeller Allibert offers a broad range of standard and tailor-made packaging solutions. Given our extensive range, Schoeller Allibert' solutions can be used for distribution, storage and retail display.
Many of our products are held in stock and will benefit your business immediately. With our standard assortment solutions we serve global companies like AB Inbev, BMW, GlaxoSmithKline, Unilever, iGPS and many postal companies.
Foldable large containers and foldable small containers
Foldable intermediate bulk containers
Rigid pallet containers
Plastic pallets
Various plastic crates and trays for beverages
UN certified pails
Standard range stackable, nestable and collapsible crates
Dollies and lids
Accessories like liners and valves
In addition to our packaging solutions held in stock, we offer tailor-made packaging systems. Many of our solutions are tailor-made for specific customers and industries, such as our beverage crates and trays used by Carlsberg, SAB Miller and Heineken.
We keep our customers at the forefront of their markets by providing innovative products and services. We have developed many customized solutions for customers like Coca-Cola and Volvo. You will not find a more innovative and experienced development partner as we have proven to be for clients like Aston Martin, Heinz and Marks & Spencer.
Back to list
Visit website