Zappar wins top Award at AWE for 7-Eleven AR campaign
| 11-06-2019 |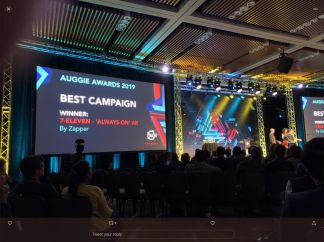 Having been selected as one of the Top 10 Most Innovative Businesses in the AR/VR industry as part of the annual 'World's Most Innovative Company' awards in February, our good friends and members, Zappar have picked up a prestigious Auggie Award at the AWE (Augmented World Expo) for its 7-Eleven Always on Augmented Reality campaign.
Now in its 10th​ year, the annual Auggie Awards​ recognize the best-of-the-best in spatial computing (AR & VR.) The announcement coincided with the company's participation at the AIPIA Summit of the Americas. Speaking to Beverage Daily during the event, Keith Curtian, VP of business development at Zappar explained the campaign involved the roll out of the company's powered AR experiences across 10,000 7-Eleven stores in North America.
The experience included a Deadpool- themed AR experience, as well as redeemable rewards, mini-games and selfie opportunities for shoppers. It also included the return of Pac-Man 'chomping his way into the AR space'.
Zappar has recently expanded its AR content creation platform ZapWorks Studio with more features for building immersive augmented, virtual and mixed reality experiences, it says.
Caspar Thykier, CEO and co-founder of Zappar said, "ZapWorks Studio is now one of the most versatile and scalable platforms on the market. It continues our mission to build the most accessible, affordable and feature–rich toolkits for AR creators."
Features of the expanded platform include Face Tracking, which involves powerful computer vision facial tracking algorithms, enabling AR developers to create more expressive face-tracked experiences. Other enhanced features include World Tracking – build it once and instantly publish across both iOS and Android.
Sketchfab integration allows access to over two million 3D models, characters, scenes and environments directly into the platform, making them easy to search and import.
« News feed