UV Vodka's gets a new, sunlight activated bottle design
| 05-08-2021 |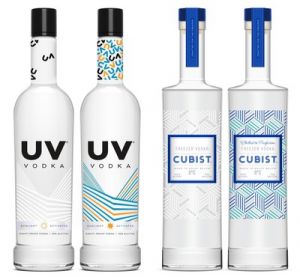 Phillips Distilling Company, a US pioneer in flavours and spirits innovation has announced its largest consumer repositioning effort in the company's over 100 year history, with a series of packaging innovations and a new product launch intended for today's modern spirits drinker, it says.
Beginning in July 2021, UV Vodka will get a fresh new look with the launch of a new photochromic bottle design that activates a bright spectrum of colours when exposed to UV sunlight. A new tagline "Bring the Light™," is the brand's first campaign focusing on building a deeper state of mind between the UV name and its connection with sunlight.
When exposed to light, photochromic wave designs appear on the neck of the bottle and continue throughout the primary label. When the bottle is removed from the light the new black UVR logo remains while the colours disappear. According to CTI research, sunlight-activated ink drives purchase intent for 64% of consumers.
Another exciting development is the introduction of Cubist™, a first in category "Freezer Vodka"™. It will test market in Minnesota and Arizona in August 2021 with an expanded launch in 2022. Consumer insights show that vodka drinkers prefer vodka ice cold and many store it in their freezer to serve at a more desirable temperature. Phillips is the first distillery to create a vodka that is specifically designed to store in the freezer. When the vodka is at its most perfect temperature -- at or below zero degrees Celsius -- the thermochromic technology activates the bottle to turn blue which notifies the drinker it's ready.
QR codes on advertising and point-of-sale materials will link to a video that demonstrates how the label transitions in the freezer along with additional product information. According to Phillips' research, 75% of consumers believe Cubist™ is unique from other vodkas.
The company has also announced the launch of its new corporate website. The fully revamped and remodelled site provides a modern and contemporary brand forward experience that is simple and easy for end users to navigate when searching information, according to the company.
"Phillips Distilling Company has a long history in innovation," said Andy England, Phillips Distilling CEO. "Our groundbreaking launch of Cubist is the first of many revolutionary test concepts we plan on introducing to the world. We also plan to launch three new brands into lead markets next year that will fuel our company's growth trajectory and deepen our relationships with distributor and retail partners."
« News feed