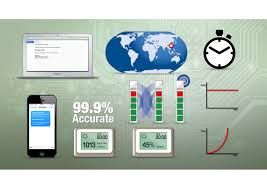 NEWS: Two time elapsed indicators, which one is right for you?
21-10-2017
"The original, microfluidic time indicator tells you at a glance if a product is still safe to use. It reduces doubt, waste, risk, and saves money. New for 2017 is our refined electronic time indicator, which offers the best intelligent monitoring on the market: real time product status display with proactive communication," explains Pete Higgins, founder and CEO of UWI Technology.
"Each indicator is customized for specific requirements, because getting the right solution for your application is important. In order to do this, it helps to consider the following:
1. What time elapsed period do you require? (Hours, days, weeks or months.)
2. What accuracy is required? (Indicators can achieve up to 99.998%.)
3. Which elements would you like to measure? (Time, or also temperature, humidity, etc.)
4. What means of communication best suit your requirements?
Both the Microfluidic indicators and Electronic indicators have unique sets of features, says UWI. Two sets of features, one set of benefits, as both indicators provide the same solutions.
• Reduced risk of using out of date, ineffective or even harmful products.
• Reduced waste and costs, as no need to discard good and effective products.
• Ensuring brand reputation and helping stock management, as products are used at their best.
• Improve brand loyalty as added benefits empower customers and stimulate repeat purchase.
Adopting a new technology and investing in new packaging solutions is never a quick and easy process. This is why the AIPIA World Congress is so successful, as it facilitates face-to-face discussion with all the latest and greatest technologies under one roof. If you would like to arrange a meeting at Booth 29 during AIPIA, please get in touch with Anna Cuthbert (anna.cuthbert@uwitechnology.com).
Pete is presenting on exactly this topic at Congress - the challenges of adopting new technology. Not only from the perspective of a small innovative company, but also a potential multinational customer.
Find more information on Pete's presentation here!
News overview