Smartrac offers new Green tag plus one usable on metallic surfaces
| 01-10-2019 |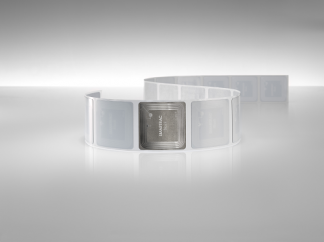 Smartrac Technology Group, a longstanding AIPIA member, with a global market for its RFID products and IoT solutions has launched EAGLE Green tags. These are the latest products developed for the company's Green Tag Program, combining superior sustainability characteristics with compact size, excellent read range and high quality for retail-optimized applications, it says.
Like the recently launched WEB Green inlays and tags, EAGLE Green uses plastic-free, fully recyclable paper as the substrate, foregoes adhesives as much as possible, and comes with a laser-cut aluminium antenna that allows the complete recycling of these residues, resulting in a significant carbon footprint reduction. All products within the Green Tag Program aim to address businesses that recognize the value and importance of a greatly reduce environmental impact across all applications and markets. EAGLE Green's performance matches the conventional EAGLE inlay launched this January
Also the company has announced the launch of BLOCK ON-METAL tags. These flexible, ferrite-based NFC inlays and tags are suitable for multiple industrial, retail and B2C applications where items with metallic surfaces need to be identified or interacted with, it says.
The new BLOCK ON-METAL tags, combine a performance-optimized antenna design with a thin layer of flexible ferrite material, which isolates the magnetic field from the metal surface. Ferrite redirects the reader's inductive field and prevents energy from being wasted as heat within the metallic surface.
An excellent on-metal performance and read range, means the tags are an ideal solution for a wide array of industrial, retail and consumer applications, according to Smartrac. These include, but are not limited to, enhanced customer engagement and loyalty, asset management, brand protection, secure product authentication, and payment.
With a dimensions of just 50 x 50 mm for the standard tag (die-cut size) the new product allows the identification and provision of a digital identity to many items - from metallic components to spare parts, signs, tools, even machines and domestic items. BLOCK ON-METAL tags are suitable for roll-to-roll manufacturing processes, which makes onward processing much easier and more cost-effective, and allows converters to overprint the inlays if required, ii claims. Block On-Metal tags should be available in high volumes from Q4 2019, says Smartrac.
"Our new BLOCK ON-METAL products are the answer to frequent customer requests and at the same time extend the application spectrum of NFC tags to previously hard-to-tag metal objects. In addition, they underpin Smartrac's innovative strength in the global NFC market," said Matti Tavilampi, director product management at Smartrac.
SEE AT AIPIA WORLD CONGRESS AMSTERDAM NOV 18-19
« News feed