Raisin the Dead? Glow-in-the-dark packs for Halloween
| 27-10-2020 |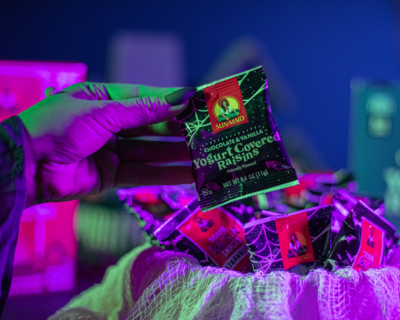 Available at USA retailers nationwide, including Kroger and Ahold, as well as via Walmart.com and Amazon.com, the packages feature bats that glow after being held up to a UV or smartphone light.
The Halloween-themed Sour Raisin Snacks come in 24 fun-size pouches with 12 Strawberry and 12 Blue Raspberry flavours, says the company. The Sun-Maid Yogurt Covered Raisin snacks for Halloween are available in an 18 pouch box including Chocolate and Vanilla coating.
AIPIA has not discovered who is responsible for the glow-in-the-dark feature, but it is a fiendishly clever way to boost sales and it only glows to show that the simplest smart packaging concepts can be unearthed to create a clever pack!
« News feed