Quorn unveils two new products with NaviLens accessibility tech
| 02-10-2023 |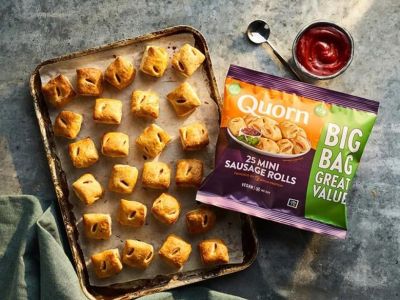 Quorn has decided to implement NaviLens technology across its entire product range, in a bid to make its meat substitute products accessible for visually impaired people. Two new products, Tomato & Mozzarella Escalopes and Mini Vegan Sausage Rolls, will be the first from Quorn to feature NaviLens barcodes.
The barcodes allow shoppers to easily access key product information and nutritional details from up to 12 times farther away than standard QR codes.Gill Riley, marketing director at Quorn Foods UK, says: "As the leading meat-free brand, we want to make our products as widely accessible as possible, so that everyone can enjoy more meat-free. NaviLens technology is a huge step in our journey towards making things like the weekly food shop a more inclusive and smoother experience for the visually impaired. We're thrilled that Quorn is the first meat-free brand to offer this."
Marc Powell, head of accessibility innovation at the Royal National Institute of Blind People (RNIB), adds: "We're delighted that Quorn is introducing NaviLens technology onto their product packaging. This is a positive step in making products accessible for blind and partially sighted people, and ensuring they have the same access and choice as our sighted peers.
ALL THIS AT AIPIA WORLD CONGRESS. SEE AGENDA AND HOW TO REGISTER HERE
« News feed