QR codes on inside of food & beverage closures ensure consumers get the message
| 29-07-2020 |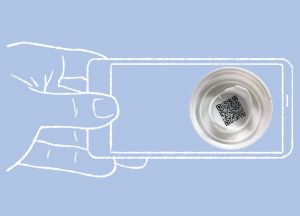 SIG is extending its range of PAC.ENGAGE QR code solutions into closures with the launch of 'One Cap, One Code' for one-to-one online marketing opportunities, aiming fully at consumers. The company says its unique digital closure solution will be launched initially in the combiGo closure for on-the-go packs. It enables food and beverage customers to apply QR codes to the inside of closures, which are only visible to the consumer.
With on-pack QR codes already well established this innovation, says SIG, is a further bridge to the digital communication gap between brand and consumer. Recognized by smartphones in less than 3 seconds the 'One Cap, One Code' solution keeps consumers entertained, informed and rewarded, while also building consumer trust and loyalty, according to the company.
SIG's first customer for this solution is one of China's largest dairy producers. Inner Mongolia Yili Industrial Group. It will launch 'Perfect Love' fruit yoghurt and the QR code in the closure will direct consumers to a WeChat mini-program, full of fun content to keep consumers engaged and entertained. Yili can attract more offline consumers to buy online and build an enduring membership system.
Today more than 40% of the world's population online and 70% with a smartphone, consumers are more connected than ever. Millennials expect brands to entertain them and the whole buying experience has become much more than just about the product, it says.
Hanno Bertling, senior product manager closures at SIG comments, "Hiding QR codes in the closures offers a more personal touch and this new way of communicating with consumers offers unique and fun online marketing opportunities for our customers."
With a simple smartphone scan, the QR code hidden inside the closure can immediately launch dynamic and engaging content, from competitions and questionnaires to loyalty programs and shopping offers. A quick link to the brand's website and social media channels also generates more traffic flow to increase interaction and boost sales.
Ayed Katrangi, senior product manager digital marketing at SIG explains, "IoT and connected packaging innovations are opening up new and creative ways to track and interact and our PAC.ENGAGE solutions allow every product to act as a data-driven information and media source. These user-friendly coded closures will bring a new personal and emotional experience to consumers, allowing brands to build a close and engaging relationship with their audience."
« News feed