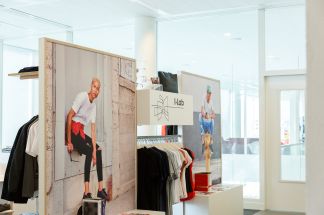 NEWS: Opening Doors in Innovation: the Avery Dennison I.Lab™
17-10-2017
Our world is getting faster, smaller and more competitive. The line between the physical and digital is blurring. Consumers are now more informed, empowered and demanding than ever before and expect seamless experiences in all parts of their lives. The 'internet of things' (IoT) has become a reality and before we know it, everything we own will have a unique digital identity.
Over the last 10 years the adoption of RFID has taken hold in apparel retail. Initially developed to drive efficiencies, increase inventory accuracy, and reduce waste, the technology is now also being used to create interactive experiences, from magic mirrors to triggering unique item-level experiences and even self check-out.
RFID is profoundly transforming and redefining the retail industry, and is the starting point of Avery Dennison's journey into intelligent labelling, which now goes well beyond apparel and retail, to beauty, food and aviation.
The company recently opened 'I.Lab' an interactive intelligent labels centre at its European headquarters in Oegstgeest, Netherlands. Driven by technology, the I.Lab is a state-of-the-art experience centre that showcases Avery Dennison's capabilities in RFID and intelligent labeling, offering hands-on experiences, live demonstrations, and customer case studies across multiple industries.
Meet with the team and explore Avery Dennison's Intelligent Labeling solutions at AIPIA Congress booth 32
News overview