News from Label Expo: Enhanced intelligent labels PLUS an on-metal RFID tag printer
| 09-10-2019 |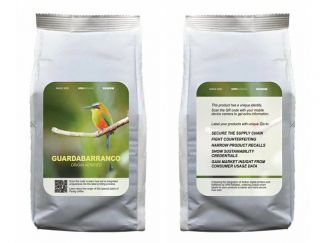 AIPIA member UPM Raflatac has announced a groundbreaking integration between Xeikon's digital printing presses and fellow member Magic Add's Internet of Packaging platform for its intelligent label solution, RafMore by UPM Raflatac.
Magic Add's IoP platform, which powers RafMore smart labels, can now send unique IDs to Xeikon digital printers directly from the cloud. The printer automatically and securely prints the smart labels with unique digital identities in the form of any standard, machine-readable code with shorter turnarounds and in greater quaities than ever possible before, they say.
"Even if you need several million labels, you can just choose to add unique IDs to them during the normal printing process. The integration enables new applications and reduces the time because there's no need for a manual process ," said Jeroen Van Bauwel, director of product management at Xeikon.
"This makes smart packaging much faster and easier for brand owners, especially if they want to try smart labels for the first time," says Ari Salonen, chief executive of Magic Add.
Using smart labels to give products unique digital identities brings a variety of benefits without adding much to label unit cost. UPM Raflatac's RafMore smart labels can be used to track product origin, authenticate products and fight counterfeiting, make product recalls as narrow as possible, show consumers sustainability credentials, and more. UPM Raflatac said that in return for offering users more product information and supply chain transparency, brands gain valuable market insight data based on real-time consumer usage.
Launched at the show theT4000 RFID Thermal Barcode Printer, prints and encodes on both standard and on-metal RFID labels and tags, makes it a universal solution for almost all RFID applications, according to makers Printronix Auto ID.
The T4000 RFID printer was designed to print and encode on-metal and traditional labels, making it the ideal solution for RFID asset tagging of tools and equipment used in healthcare, manufacturing, supply chain, IT, and service yard industries, it says.
On-metal tags typically include a foam insulator and a metal foil backing that makes them incompatible with most standard RFID printer/encoders, but the T4000 has been engineered to handle this media and it will back-up and completely overstrike RFID labels that fail to encode properly.
"The T4000 is a great addition to our rapidly expanding line of RFID printers," said Andy Edwards, director of product management for Printronix. "It was designed for ease of use, high productivity, and the flexibility of printing on-metal or traditional RFID tags."
It can print up to 5,000 labels or tags a day at ten inches per second and will fit into any environment with multiple connectivity options, remote printer management tools and automated alerts for optimum functionality, says Printronix. To minimize media changes, the side-loading label and ribbons spindles support 20cm media rolls and 450m ribbons. It comes standard with Ethernet, USB host, USB device and Serial connectivity. WiFi and Bluetooth can also be ordered as optional features.
« News feed