New frontier in hologram security
| 17-06-2020 |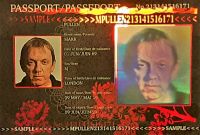 A start-up based in Essex, UK, Iris Photonics, has developed ground breaking technology for security holograms, it says. The technology makes it much harder for criminals to illegally forgea wide range of items such as identity documents and high security packaging forcar parts, pharmaceuticals and medical equipment - such as COVID-19 testing kits - according to the father and son team.
Due to their unique nature, and the relative difficulty required to produce them, holograms – best described as recordings of microscopic diffraction patterns which, when illuminated, produce three-dimensional images – are already used extensively to authenticate and verify high security items.
Unfortunately, as technology has advanced, so too have criminal counter measures, so traditional embossed security holograms have become increasingly susceptible to forgery, says Iris. The new hologram can rapidly create full colour security holograms with unique images in large numbers, which is a world first, it claims. Also it allows for each mass-produced hologram to be personalised, which, Iris believes, poses an enormous and almost insurmountable challenge to counterfeiters.
Consumers also benefit from the hologram's ability to mix colours and produce a full colour palette. Stable, full colour images can accurately represent, for example, brand logos or realistic human portraiture. The uniqueness of the visual appearance created by this new technology will engage consumers, since the image created is immediately recognisable, according to Iris.
Jonathan Henry Wiltshire, co-developer of the Iris Holograph, said, "The hologram that we have developed allows for the numbering and personalisation of each and every hologram, even where they are rapidly created. This proprietary technology sets a very high hurdle in security that criminals will be unable to surmount for many years to come. To put it into perspective, even though Swiss banknotes incorporate reflection volume holograms, the images created by these notes are almost unbelievably inferior to those of the Iris Hologram."
"Our technology has been developed over two years by three individuals with a combined 70 years of relevant high-tech industry and engineering experience, which has led to the creation of technology that brings a new level of trust to hologram security. We have now developed a mass production system for these full colour reflection holograms which enables us to produce high volumes," he added.
« News feed