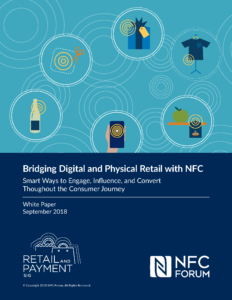 NEWS: New NFC Forum White Paper: Bridging Digital and Physical Retail with NFC
27-10-2018
Connected Consumers Are Here! So says a new White Paper introduced by the NFC Forum, entitled: Bridging Digital and Physical Retail with NFC. The Forum's executive director Paula Hunter commented: The era of the 'connected consumer' is here– and it's not just millennials. People of all ages and backgrounds are turning to the Internet to interact with digital content, services, experiences and brands. They're going online for entertainment, education, knowledge, social sharing and commerce.
And they're staying connected, she added, wherever they go and whatever they do. That includes shopping. Today, 90% of smartphone owners use their phones while in-store.
She offered six tips that brands and retailers should keep in mind when working to attract and develop relationships with these connected consumers:
Omnichannel retailing can pay major dividends: Omnichannel shoppers have a 30% higher lifetime value than those who shop using only one channel.
It's never too early to connect with consumers: NFC helps brands find ways to break through the noise, capture attention and build a positive perception of the brand.
Online resources can enhance the in-store shopping experience: Make consumers' online activity on mobile devices in-store an opportunity to build a relationship, strengthen your brand and drive sales.
The easier consumers can engage with your content, the better: Make the process of accessing content easy and convenient.
It pays to maintain the relationship beyond the sale: NFC's ubiquity and ease-of-use make it a valuable customer communications technology to enhance engagement beyond the sale.
Broader use of analytics can deepen your understanding of customer behavior: The more you know about your customers, at the point of purchase or udse, the better you can meet their expectations by creating targeted content based on accurate behavioral metrics.
There are more tips, content and solutions in the NFC Forum's FREE TO DOWNLOAD White Paper Bridging Digital and Physical Retail with NFC. Just paste the link into your browswer: https://nfc-forum.org/retail-and-payment-stakeholders/ It offers an in-depth analysis and discussion of the connected consumer and their customer journey.
More about this at AIPIA World Congress REGISTER!
News overview