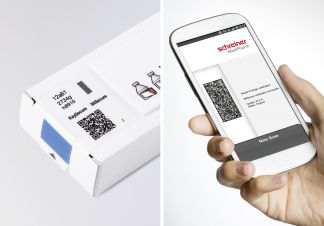 NEWS: New App Improves Pharma Security Feature
08-01-2018
BitSecure is a copy detection pattern created by the Competence Center Schreiner ProSecure using printed digital security features based on a high-resolution, cloud-like random pattern which enables digital authentication of pharmaceutical packaging using a smartphone app. At Pharmapack 2018 (Paris Feb 7-8), Schreiner MediPharm will present a new app for BitSecure authentication with selected smartphones as well as the latest generation of handheld readers.
As a result, authentication can be performed easier and more reliably, claims the company. Improvements include user-friendliness and an enhanced app back-end: The user interface of the app is intuitive and the analysis algorithms have systematically been further developed. The back-end data management system is integrated into a powerful and future-proof development environment, it says.
Any attempt to copy the BitSecure pattern, which has a size of only a few square millimetres, causes the printed image to suffer a loss in precision and optical details. These differences can be reliably detected by means of the smartphone app or a handheld reader.
With the countdown on for theEU Directive 2011/62/EU to come into effect (9th February 2019), which aims to stop illegal trade in falsified medicines, pharmaceutical manufacturers will have to provide secondary packaging of all medicines placed on the market with an individual serial number as well as an anti-tampering device to ensure the integrity of the medicinal packaging
Schreiner believes it is well placed to offer solutions via its extensive portfolio of analogue and digital security solutions for reliable counterfeiting and tampering protection, which will be on display at the Paris exhibition.
News overview