NFC enabled caps and closures go global as partnership announced
| 14-05-2019 |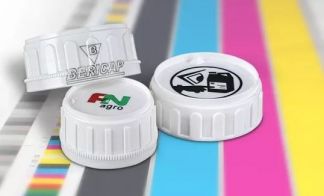 BERICAP, one of the largest suppliers of plastic caps and closures for food, beverage, pharmaceutical, and industrial markets, and AIPIA member Thinfilm Electronics, a major global developer of near field communications (NFC) solutions, have signed a Letter of Intent for an exclusive joint partnership to develop fully integrated digital authentication solutions for closures in over-the-counter pharmaceuticals and industrial applications.
The companies have established a strategic partnership encompassing innovation, integration, and implementation of Thinfilm's NFC-enabled solutions. The collaboration will embed advanced chips into the closures to create dependable and cost-effective solutions for brand protection and authentication purposes, they claim.
"This partnership with Thinfilm allows us to offer another important security and marketing tool for our customers in a range of markets," said Jörg Thiels, CEO of BERICAP Industrial Products. "Smart and anti-counterfeiting packaging solutions are fast developing requirements and this technology and software platform is a perfect fit to further extend our extensive range of closures."
"BERICAP is an important strategic partner for us," said Kevin Barber, CEO of Thinfilm. "We are joining forces to develop product closure solutions that will help thwart the global problem of counterfeiting, refill fraud, tampering, and diversion. These solutions will add differentiation, interactivity, and relevance to BERICAP's current customer offering."
The two companies have begun to integrate NFC into injection-moulded plastic closures, enabling consumers to interact with products and ensure authenticity, while providing brands with unique insights. The solution provides BERICAP's customers with an easy-to-implement, integrated closure that supports brand protection, supply chain visibility, and direct consumer engagement, the companies say. They will work with brands to integrate and scale NFC-integrated closures onto high-value products.
Currently, BERICAP manufactures more than 84 billion plastic closures and dispensers every year. NFC technology will offer a new dimension in brand protection solutions that will add value to its broad portfolio of of closures.
Thinfilm will present some of the latest advances in NFC solutions and applications at the AIPIA Summit of the Americas. For more details of the full program:
AIPIA Summit America
« News feed