Look! No hands! Your favourite beer and coffee on tap
| 06-04-2021 |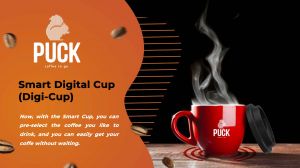 Uniqueid a Turkish based company specializing in IoT Technologies and UHF RFID Systems, has come up with a smart cup system to deliver your favourite beer or coffee without touching a thing. Based on an NFC chip attached to, or embedded in, the cup or glass, the special coffee machines or beer taps recognise your unique glass and pours out a pre-selected drink without the need for any human action.
The company, also with offices in The Hague, Netherlands, claims to be able to merge the end consumer experience with technology, based on lean and agile development. The smart cup enables its owner to choose their favourite coffee or beer. Simply placing the smart container under the tap allows the connected vending machine to recognise it and pour away without any delay.
Users can attach the tags to their favourite cup, glass or mug or buy specially made ones, enabling Brands to use them for marketing purposes. Existing vending machines can be adapted to use the system, claims Uniqueid, and also incorporates an automatic payment service. All the user must do is register their Smart Cup via smartphone by downloading the MasterApp and linking their unique NFC tag to the system. Tags come in different sizes and are not affected by heat or cold, it says.
In these days of Social Distancing the lack of touching the machine or other human involvement is appealing. While no money needs to change hands either, as payment is made from an account set up when you register. Other advantages, says the developer, are the elimination of disposable cups and reduced waiting time at the service point for your beverage – no queues!
For the drinks provider the system offers expiry date control and real time inventory status which enables automatic back ordering, whilst providing useful data about sales at each delivery point. In addition it can offer metrics about how much an individual consumes, how frequently and at which locations. Finally, the company says, the system maintenance costs are 'affordable and manageable'.
« News feed