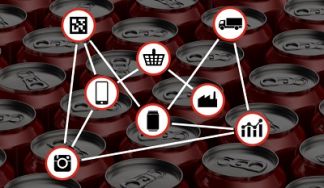 NEWS: Its in the Can: New Partnership Adds Digital Intelligence on Industrial Scale
28-11-2016
Crown Holdings one of the world's major metal packaging producers and EVRYTHNG, the Internet of Things (IoT) smart products platform developer, are collaborating to help food and beverage brand owners harness the power of IoT technology by embedding real-time, connected digital intelligence into billions of everyday consumer packaged goods.
As part of this collaboration in smart packaging for CPG products, Crown will print serialized codes that can be scanned by smartphones on products packaged in beverage, food and aerosol cans and specialty packaging tins at the point of manufacture.
These 'digital triggers' are integrated with the EVRYTHNG IoT platform, giving each physical package a unique software identity and data profile in the cloud. The combination of smart packaging powered by smart software in the cloud makes billions of packaged goods more intelligent, more interactive, more trackable and more valuable to CPG companies and their customers, say the companies.
Products that are #BornDigital™ in this way – manufactured with software capabilities in the cloud that can power new applications and analytics – enable brands to optimize their supply chains by improving product traceability and create a new channel for 1-2-1 consumer engagement.
Applications can include data about product nutrition, ingredients, manufacturing processes and distribution miles travelled for consumers, as well as supply chain tracking, loyalty rewards, product reordering, brand protection and personalized content and services.
News overview