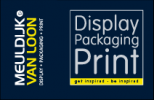 Meuldijk & van Loon
Meuldijk & van Loon is a company that traditionally has specialized in the conception, design and manufacture of displays, packaging and printing. From standard printing, advertising and graphic productions in all shapes and sizes to creative print in the form of more striking displays.
Meuldijk & van Loon always delivers a total package. The services provided in Berkel en Rodenrijs established graphic design is characterized by a balance between access (printing advice and order handling), creation (design and DTP) and production (printing and finishing).
The services of Meuldijk & van Loon is consistently tailored to the needs of the customer. It manifests itself Meuldijk & Loon from the outset as a partner who thinks at all levels. The starting point is to relieve the customer. If necessary take Meuldijk & van Loon, the entire process on its behalf from the first sketch to the filling and transportation of the finished product.
We have many options for all your printing needs, such as impressive life-size displays or sales irritant Point of Sale material.
Back to list
Visit website