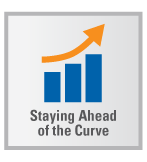 NEWS: How-to integrate packaging innovation into a company - Staying 'Ahead of the Curve'
06-11-2018
This discussion at the upcoming Congress is based on years of experience and learnings involved with integrating new packaging innovation and technology into fast moving consumer products for a major multinational Brand Owner.
Christina Cvetan, founding partner at Ahead of the Curve Group will demostrate, whether your great ideas are originating from large, multi-national companies, small to mid-size companies, or academia there are six considerations which may make the difference between having a great idea and landing a great idea in market.
Market Readiness Reality
Solution Ready Integration
Manufacture Base Structured
Cost Understood
New Markets Are Everywhere
Ideas Are Dynamic
More about this at AIPIA World Congress REGISTER!
News overview