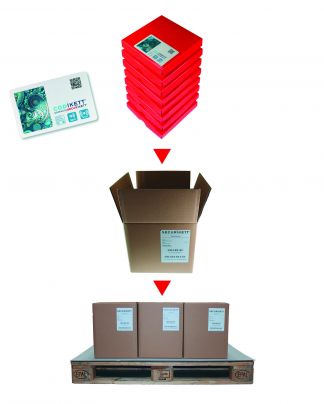 NEWS: Combination label with QR code, RFID and NFC : CONGRESS TOPIC
07-08-2017
SECURIKETT® Ulrich & Horn GmbH now offers a security label featuring a dual RFID/NFC chip in addition to a QR code. Its use in the CODIKETT® web application for product tracking and authentication was demonstrated for the first time at interpack..
Conventional scanning of a printed QR code with a mobile phone or scanner has been combined with RFID and NFC technology. It facilitates simple handling of logistics tasks with RFID, as well as user-friendly communication with consumers through NFC and QR codes, says the company.
"Interoperability is a core concept in the Industry 4.0 age. We have to be open-minded where interaction between different systems and media is concerned," says Dr Marietta Ulrich-Horn (CEO), explaining the strategic background for this innovation.
Access to the EPC memory is particularly useful for logistics, packaging aggregation, and rolling inventory applications. Radio frequencies of 850-950 MHz permit a rapid transmission speed and bulk reading capability, allowing synchronous reading of many packaging units over several metres.
Printed QR codes or NFC chips (13.56 MHz) are more commonly used for consumer communication. This is already activated for some smartphones. A dialogue with the CODIKETT® internet platform is established quickly. This means that the unique codes used by CODIKETT® can be verified various ways over the internet, by scanning a code, using RFID or NFC.
The CODIKETT® system processes the data for packaging aggregation (CODIPACK), track & trace (CODI-TRACK), and evaluations (CODI-ANALYTICS). In this transparent supply chain, grey trade and smuggled products can be easily identified and traced, it is claimed.
During interpack two different products were tagged with the new label. Scanning the product code initially revealed which product it actually was. After activating the code in the packaging process, the user could track which product was in which pack. This procedure can be applied at multiple packaging levels.
CONGRESS TOPIC: Marco Linsenmann, Chief Digital Officer for Securikett will explain why it is so beneficial to connect digital product security solutions and marketing strategies. There is no authentication without communication! He will highlight current digital product security technologies and the necessity to combine these and consumer / stakeholder communication – plus the economic benefits from this
REGISTER FOR AIPIA WORLD CONGRESS NOW
News overview