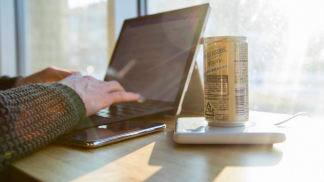 NEWS: Charge the phone and heat the coffee!
18-09-2018
Inductive Intelligence system, a patent-pending technology, turns paper, plastic, glass, foil pouch and metal packaging into heatable IoT devices. The system transfers a matrix of data from the package to the base unit. This unit then authenticates the device or package and responds by wirelessly sending the appropriate amount of energy, tuned to the right frequency, to a metal receptor in the package to create the right heating experience for the package and its contents.
In the case of metal packaging and foil pouches the package itself receives the power. The device and package talk to each other throughout the heating process ensuring a controlled and safe experience
The technology enables consumers to utilize a smart package device that's small enough to fit in the palm of a hand to safely heat packaged foods and beverages roughly as fast as, and far more efficiently, than a microwave, the company says.
The user can utilize the same base appliance to wirelessly power/charge mobile devices and other small appliances.
In addition the device allows manufacturers and retailers to collect data from the packaging itself, transmitting it to and through the consumer's mobile device at the time of use. This information can be used for data analytics, generating product use insights, conducting market research at the time of use, as well as enabling customer relationship and loyalty programs.
Also the appliance enables custom ceramic vessels to be heated, using the Inductive Intelligence base to a precise and personalized temperature. The base does not get hot, but the inside of the vessel does and it can take coffee from cold to hot at the touch of a button, or simply keep it just right. The ceramic vessel is dishwasher safe making it suitable for both consumer and commercial applications.
Inductive Intelligence designs, tests and manufactures smart package appliances that power licensed packages, appliances and vessels. It claims to be able to create custom designs and specify unique technical parameters based on the client's needs and design preferences.
More about this at AIPIA World Congress REGISTER!
News overview