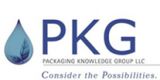 Packaging Knowledge Group LLC
Packaging Knowledge Group is a full-service consultancy offering a variety of custom solutions in the packaging arena as well as in sustainable supply chain practices. The principals and associates of the Packaging Knowledge Group are knowledgeable, experienced and proven leaders in the field of packaging and related disciplines.
We have helped a variety of companies achieve their packaging production and sustainability goals by providing innovative, technically sound packaging expertise. In addition, we are able to seamlessly integrate sustainable packaging and other practices into existing supply chain operations.
Back to list
Visit website