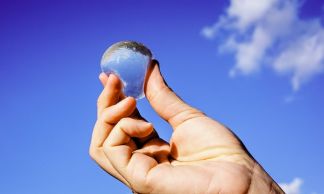 NEWS: Bubbles OF Water not Bubbles IN Water
10-04-2018
An edible alternative to plastic water bottles made from seaweed has won the UK round of an EU competition for new, more sustainable products. The spherical or 'bubble' form of packaging, called Ooho is described by its makers as 'water you can eat'. It is biodegradeable, hygenic and costs 1p per unit to make, says the developer. It is made mostly from calcium chloride and a seaweed derivative called sodium alginate.
The container made its debut in Selfridges on 22 March – World Water Day – where it retails for £1 -£1.50. They are filled with filtered London tap water and come flavoured with blackcurrant, charcoal & lime, strawberry & rose or simply as plain water.
Global sales of packaged water are set to reach 223bn litres this year. Ian Ellerington, director of science and innovation at the UK Department of Energy and Climate Change and one of the judges of the competition, told the Guardian newspaper in UK, "[Ooho] is good replacement packaging that would be really widely applicable across lots of different products. The potential for packaging reduction is really high."
Should the sphere end up in a landfill it will degrade at the same rate as natural food waste, claims the designer Pierre Paslier. He described the product as like a 'man-made fruit', which uses a double membrane to contain water. To carry larger quantities, a number of the capsules can be packed into a larger and thicker skin, like an orange, he explains.
He told the Guardian: "At the end of the day you don't have to eat it. But the edible part shows how natural it is. People are really enthusiastic about the fact that you can create a material for packaging that is so harmless that you can eat it."
All about A&IP Summit
June4-5, Jersey City
News overview