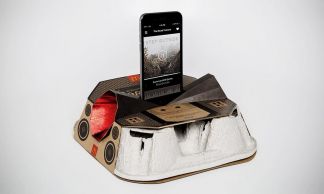 NEWS: Boom Box from Burger Barons
23-08-2017
In celebration of the McFlurry's 22nd anniversary — which was originally created in Canada — McDonald's Canada, the University of Waterloo's Audio Research Group along with the Toronto-based industrial design group Stacklab has created a limited time product, the McBoombox, which doubles as your drinks tray and an amplifier/speaker for your smartphone.
Called by one commentator 'The invention that you never knew you needed', it is, in fact, a useful way to listen to music whilst eating. The innovation more than doubles the amplification of the sound (much to the annoyance presumably of anyone sitting within 10 metres).
McDonald's McBoombox is recyclable drink tray which has been fitted with some custom designed "cones" that help create a full, more robust sound. The cones are a 10-side shaped polygon, enabling the 100 percent cardboard speakers to send sound out audio at a decibel level of 70.4, according to experts in sound amplification.
To put 70.4 dB into perspective, an ordinary iPod with headphones can reach 100-115 dB, with the volume at 50 percent. So, it might not blow your eardrums, and you might not be able to feel the bass in your chest, but you'll be able to hear some tunes at a reasonable volume.
All consumers had to do is flip over their specially designed drink tray, unfold the speakers, place the smartphone into the McBoombox and enjoy. Sadly these trays were produced in very limited quantities. For the lucky ones, who caught the tiny five-hour window of opportunity, McDonald's gave the McBoombox away on July 28 from 2:00-7:00 pm.
For the canny collector we expect this limited edition product is already on eBay. So, there's still a chance for all you music loving McDonald's fans out there.
REGISTER FOR AIPIA WORLD CONGRESS NOW
News overview