A&IP can be a 'HolyGrail' for recycling
| 11-06-2019 |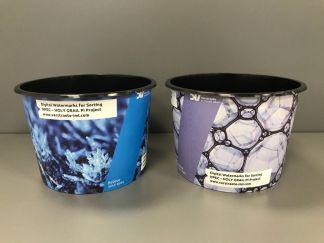 A pioneering project called HolyGrail, led by Procter & Gamble and facilitated by the Ellen MacArthur Foundation, ended officially on May 23rd. This follows three years of development to improve post-consumer recycling using chemical tracers and digital watermarks, with the aim of moving closer to a circular economy.
Several AIPIA members participated, including Digimarc, Filigrade and Verstraete IML as well as many Brand owners such as Danone, L'Oreal, PepsiCo, Nestlé and P&G. Involving altogether 29 partners, the project was a 'full value-chain pre-competitive collaboration' established to discover how the tagging of packaging can impact the accuracy of sorting and recycling systems.
One of the investigated technologies, digital watermarks, also has potential to bring disruption into other fields, such as consumer engagement and retail, through the creation of 'smart/intelligent' packaging. Major retailers in the USA (Wegmans, Walmart) and in Europe are already adopting the technology into their packaging .
Basic proof-of-concept for digital watermarks (through Digimarc and Filigrade ) has been established by the project. This will open up new possibilities currently not feasible with existing sorting technologies, says the project team.
The watermarking can make a distinction between food and non-food packaging; identify full-body shrink sleeve bottles; spot opaque and difficult to recycle plastics – such as black packaging; distinguish between mono and multilayer flexible packaging; single out rigid multi-layer packaging materials; and enable the safe introduction of new materials not hindering established recycling streams; as well as the ability for closed loop recycling.
During the project, significant progress has been made in the area of digital watermark technology, with 'invisible codes' being integrated into both printed materials (labels, sleeves, in-mould labels, films/pouches), as well as directly into a mould (PET bottles, HDPE bottles, thermoformed trays, injection moulded crates, etc.)
To allow consumer engagement the invisible codes can be easily read by mobile phones, bringing new features – ingredient transparency, coupons/loyalty, information on product use/dosage, and how to deal with the packaging at the end of life.
It is hoped to build on the achievements of HolyGrail, by upscaling from an R&D test line to a (semi)-industrial line (for which a couple of options have been identified) after which the technology can be rolled-out on a wider scale.
Larry Logan, Chief Evangelist for Digimarc commented, "Digimarc Barcode for the recycling of plastic objects and shrink labels further demonstrates the broad utility of our Intuitive computing platform, delivering a circular economy approach to packaging from birth in manufacturing, to rebirth as recycled products. We look forward to broadly licensing our technology to the industry upon commercialisation."
Johan Kerver CEO at Filigrade said "Filigrade was the first to show, in 2016 at Petcore, that watermarks embossed in packages for sorting purposes would be the innovation for the future. We are delighted that now the innovation proves, after development to industrial scale, that plastics can be better sorted and serve as high-quality raw materials."
« News feed