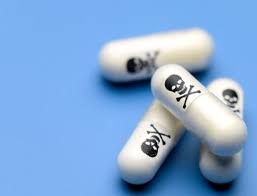 NEWS: Counterfeiting In Focus as Fakers Up the Stakes
10-04-2018
It is one of the biggest challenges facing Brand Owners, Supply Chain professionals and Consumers as more and more fakes of just about every kind of consumable product flood markets around the world. Two AIPIA members Authentix and Scantrust have recently confronted the issue head on. Both are offering solutions but, in different ways, are trying to raise awareness of both the size of the problem and the potential hazards and consequences of industrial scale counterfeiting.
In a powerful article on Linkedin Peter Kostur os Scantrust graphically illustrates the links counterfeit goods have to terrorists and how these are helping to fund their activities.
"We all know, that those abusing someone's brand or trademark are considered criminals. Smaller or bigger scale, yet they are doing what they should not and are using someone else's heritage to earn some quick buck. However, the problem is deeper than just a fake purse or pair of sunglasses bought for few euro on a beach. Deadly cocktails in drugs, cosmetics, fashion or lubricants are used for even worse," he says.
In a short, hard hitting video he shows just how dangerous this has become. We suggest you visit his Linkedin Profile and watch.
Authentix general manager for Brand protection Chad Crouch lays down the challenge: Conterfeiters Enter the Legitimate (pharmaceutical) Supply Chain, Your Move!
His company's latest whitepaper claims to show: How to validate the extent of counterfeit problems; How to efficiently manage cases and minimize lab resources; Ways to reduce company liability in the event of litigation; The costs of implementing overt or covert security packaging features; and Methods to shrink the risk of freezing supply chains.
These and many more AIPIA members offer a full range of anti-counterfeit solutions for every kind of packaged products. The global anti-counterfeit packaging market was estimated at $107.26 billion in 2016 and projected to reach $206.57 billion by 2021, according to MarketsandMarkets.com, at a CAGR of 14 percent.
All about A&IP Summit
June4-5, Jersey City
News overview