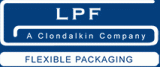 LPF Flexible Packaging
LPF has been a global leader in high performance barrier packaging since 1907. We have a proven track record in complex, multi-layer laminated packaging for food, non-food and confectionery products. We have always driven the market forward, innovated and continually improved.
LPF had the first gravure printer in the Netherlands and we were the first to introduce easy opening by laser. Furthermore, we have developed a specialized solution for getting foods crispy in the microwave; called susceptor foil. We can produce stand-up pouch both on reel and pre-made and have developed a wide range of brand protection solutions that can be applied to the packaging laminate of our customers. One of the most recent developments that LPF can offer is a highly innovative pressure-valve for microwaveable products.
We are proud to be part of the international Clondalkin Group. Because of the strong financial position of our Group, LPF is continuously investing in machines and processes to improve performance and reduce costs. More important, we also invest in our main asset: People. By fostering our people we can offer you the quality, service and creativity needed to build long lasting relations with you as our customer.
Back to list
Visit website